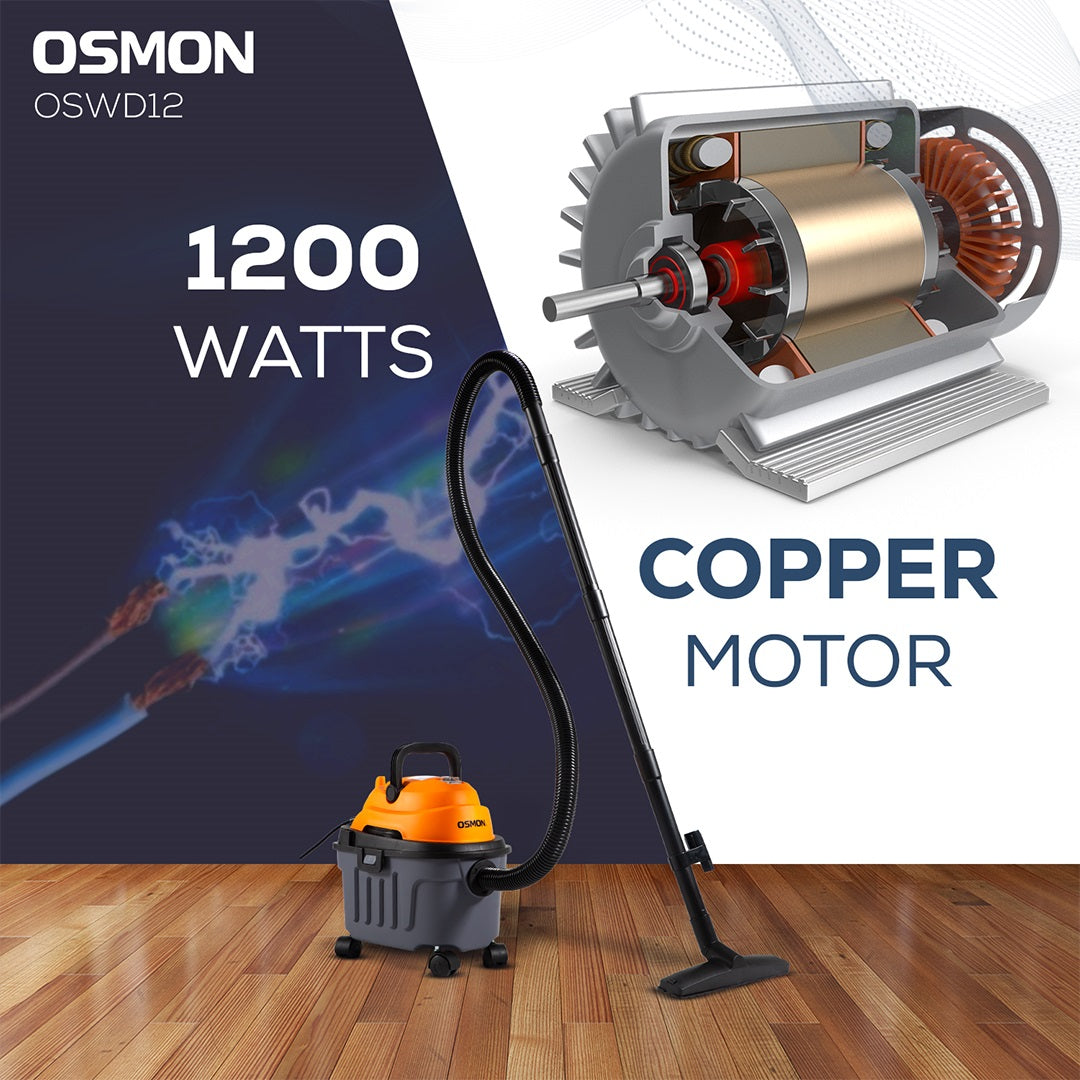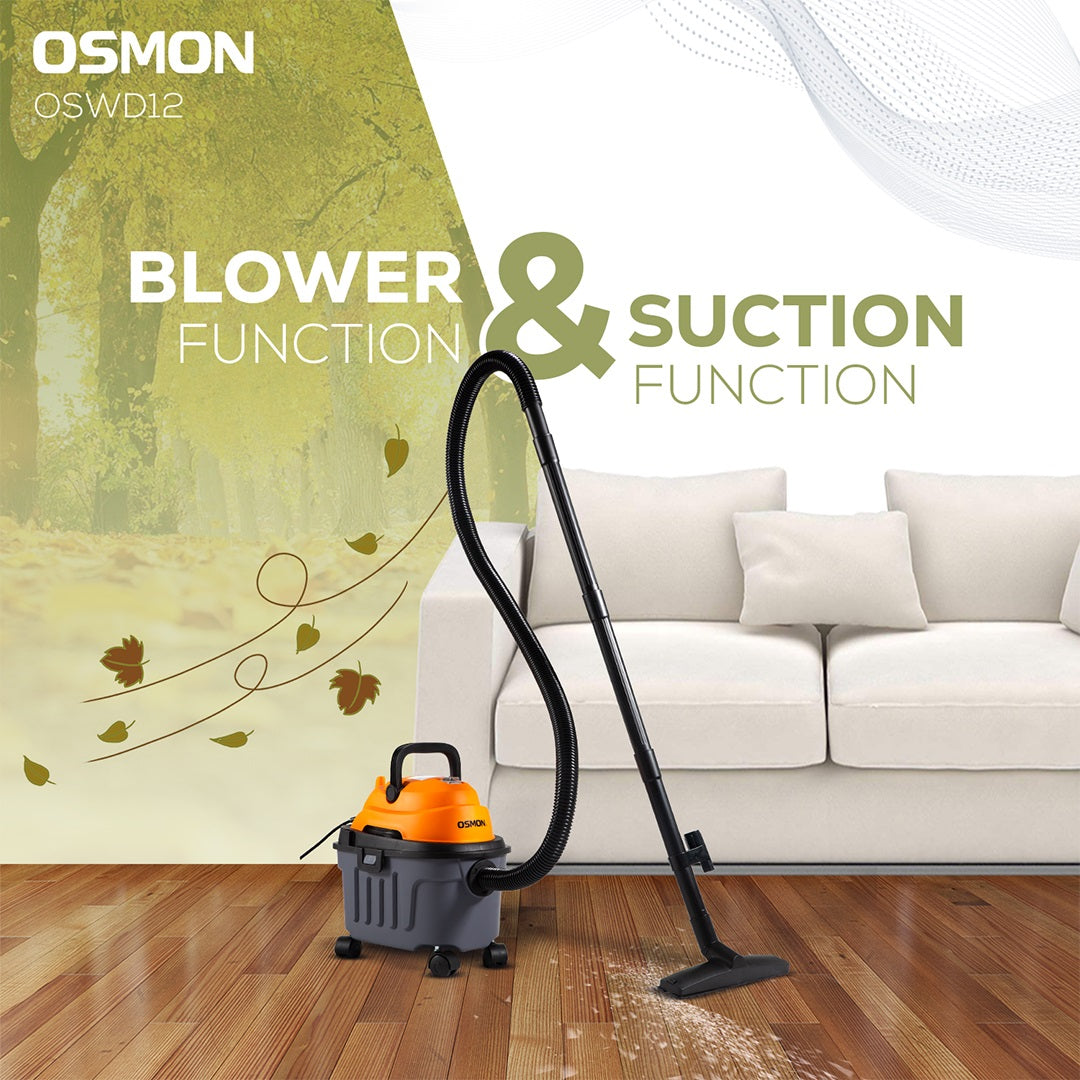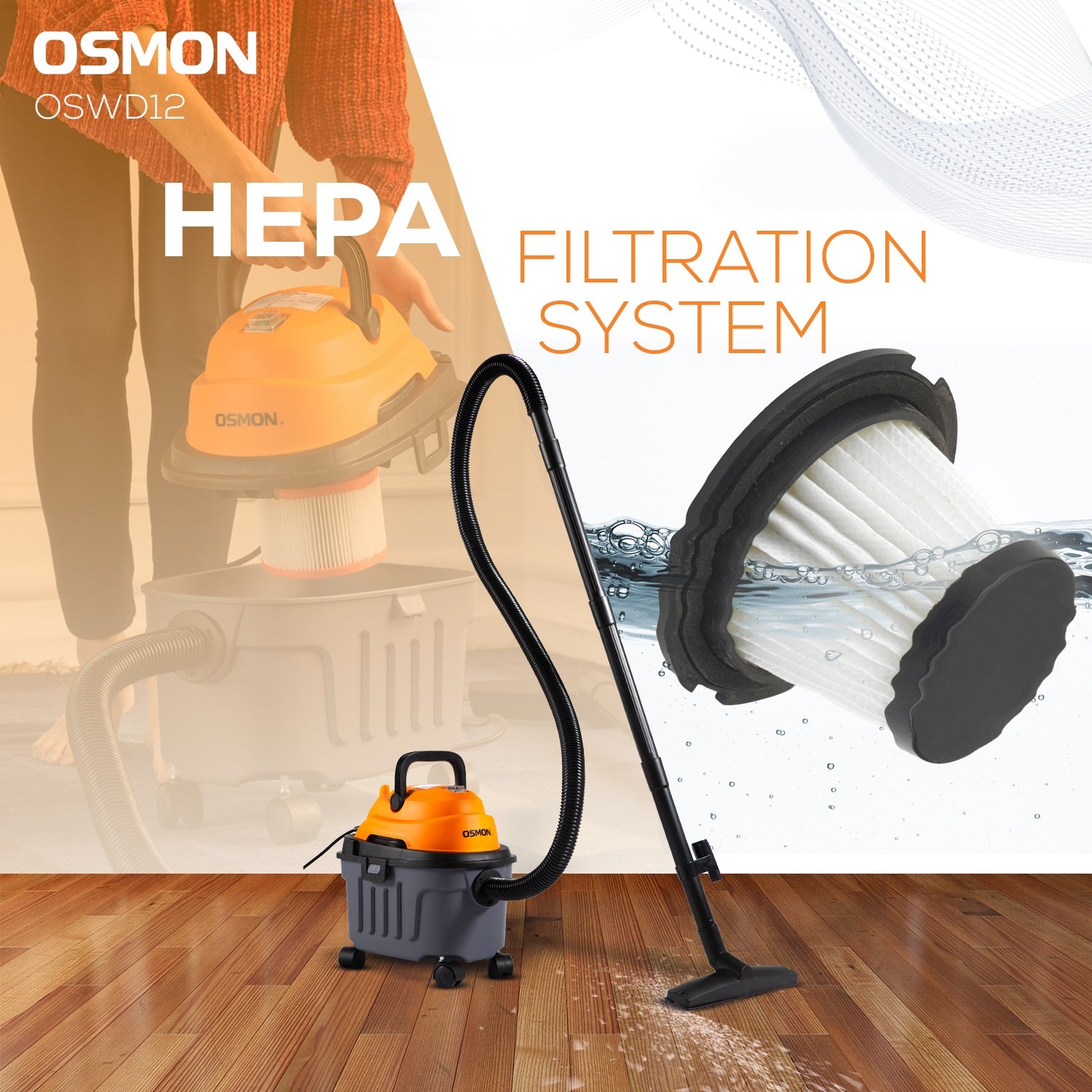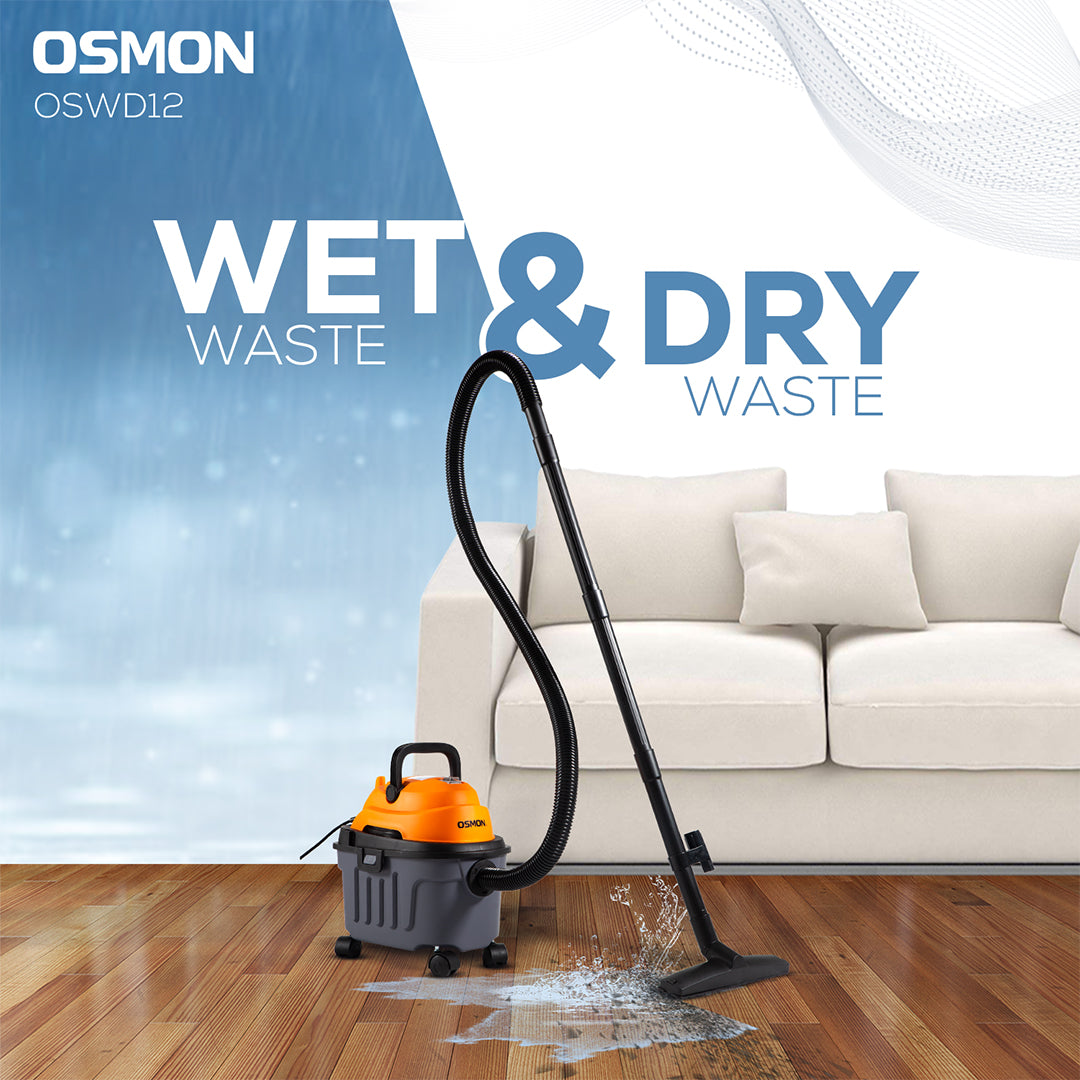 OSMON - OS WD12 Wet and Dry Vacuum Cleaner with Blower 1200W, 100% Copper Motor, 10 Litre with auto Cut-Off and HEPA Filtration System (Grey & Orange)
---
Get it between -
1200
watts motor
It has a powerful 1200W motor that is able to draw in every last piece of dirt.
18
feet cord
It is provided with an 18 feet long power cord for better reach and flexibility.
Key Features

1200 Watts copper motor

It's powered by the best and most powerful motor of 1200 Watts for smooth and uninterrupted cleaning.

Advanced HEPA Filtration system

Indoor pollutants including fine dust particles are successfully removed with the HEPA filter. It serves as a shield to prevent the motor from being blocked by dust particle accumulation.

MULTIPLE ACCESSORIES

Tools and accessories to allow and enhance the cleaning experience. Tools for cleaning corners, crevices, couches, carpets, curtains, and more.

18 feet long power cord

The 18 feet long power cord will help you to move around easily and clean all your furnishings and floors without any trouble.

3 IN 1 WET/DRY/BLOW

One equipment for 3 methods of cleaning providing at par cleanliness and hygiene. One vacuum for both wet and dry waste.

BAGLESS TECHNOLOGY

Washable bin saves you money and time, reduce waste, and maintain suction power for optimal performance. It offers a convenient, cost-effective, and eco-friendly cleaning solution.
About Wet and Dry Vacuum Cleaner
Wet and Dry Vacuum Cleaner with Blower Function, 1200 Watts Power, 100% Copper Motor, 10 Litre capacity with auto Cut-off Protection and HEPA Filtration System
1. Powerful Motor: Equipped with a 1200W copper motor, this vacuum cleaner delivers 22KPA strong suction power for efficient cleaning.

2. Thermal Cut-off: The vacuum cleaner features a thermal cut-off function that automatically switches off the motor when the temperature reaches a certain limit, ensuring safety during use.

3. Impact Resistant Tank: The vacuum cleaner has a durable and impact-resistant polymer tank that can withstand rough handling and provides a long usage life.

4. Versatile Cleaning Tools: The Floor Cum Carpet Brush is designed for carpet and floor cleaning, while the 2-1 crevice nozzle cleans hard-to-reach corners, making it perfect for cleaning different surfaces.

5. Washable HEPA Filter: The vacuum cleaner comes with a washable HEPA filter that captures the smallest of allergen-causing particles, ensuring cleaner air release.

6. Multiple Accessories: The package includes 3 plastic suction tubes, 1 flexible hose, wet and dry floor brush, 2in1 upholstery brush, and HEPA filter, providing multiple options for cleaning different surfaces and corners.

7. Large Tank Capacity: With a 10-liter tank, the vacuum cleaner can handle large cleaning tasks without the need for frequent emptying.

8. Convenient Design: The vacuum cleaner is designed for easy handling and maneuvering, making it convenient to use for extended periods.

9. Lightweight and Portable: Weighing only a few kilograms, the vacuum cleaner is lightweight and portable, making it easy to carry around the house.

10. Value for Money: The Wet & Dry Vacuum Cleaner offers excellent value for money with its powerful motor, durable design, and versatile cleaning tools, making it a great investment for any household.
Wet and Dry Vacuum Cleaner
This product is rated 5.0 of 5.0 stars.
It has received 1 review.
Have a question ? We are here to help.
Check out the most common questions our customers asked. Still have questions? Contact our customer support.
Our customer support is available Monday to Friday: 10am-6:30pm.
Average answer time: 24h
What are the types of attachments we get with this product?

We provide a range of attachments with our vacuum cleaner to make it more versatile and efficient. Here are the types of attachments that come with our product; Extension Pipe, Carpet Brush, Floor Brush Attachment, Twin Brush, and Wet Brush.

Overall, our vacuum cleaner attachments are designed to meet a variety of cleaning needs, making our product versatile and efficient.
What are the key specifications of this product? (Watts, Suction Power and Noise Level)

Our vacuum cleaner comes with a range of key specifications that make it a powerful and efficient cleaning tool. Here are the details: Watts: The vacuum cleaner is powered by a 1200-watt motor, providing powerful suction to clean various surfaces, including carpets, hard floors, and upholstery. Suction Power: The vacuum cleaner provides a suction power of 22 KPA, which is strong enough to effectively remove dirt and debris from floors and carpets. Weight: Our vacuum cleaner is lightweight, weighing only 4 kg 950 gms, making it easy to manoeuvre and use for extended cleaning sessions without feeling fatigued.
What type of pin plug comes with it? I want to make sure that it is compatible with the electrical outlets in my home.

The product comes with a standard Indian plug and will be compatible with electrical outlets at home, which should be compatible with most electrical outlets in India. If you have any doubts about whether it will work with your specific outlet, please contact our customer support team for assistance. We want to ensure that you have a positive experience with our product, and we're happy to help answer any questions you may have.
Our customer support is available Monday to Friday: 10am-6:30pm.
Average answer time: 24h