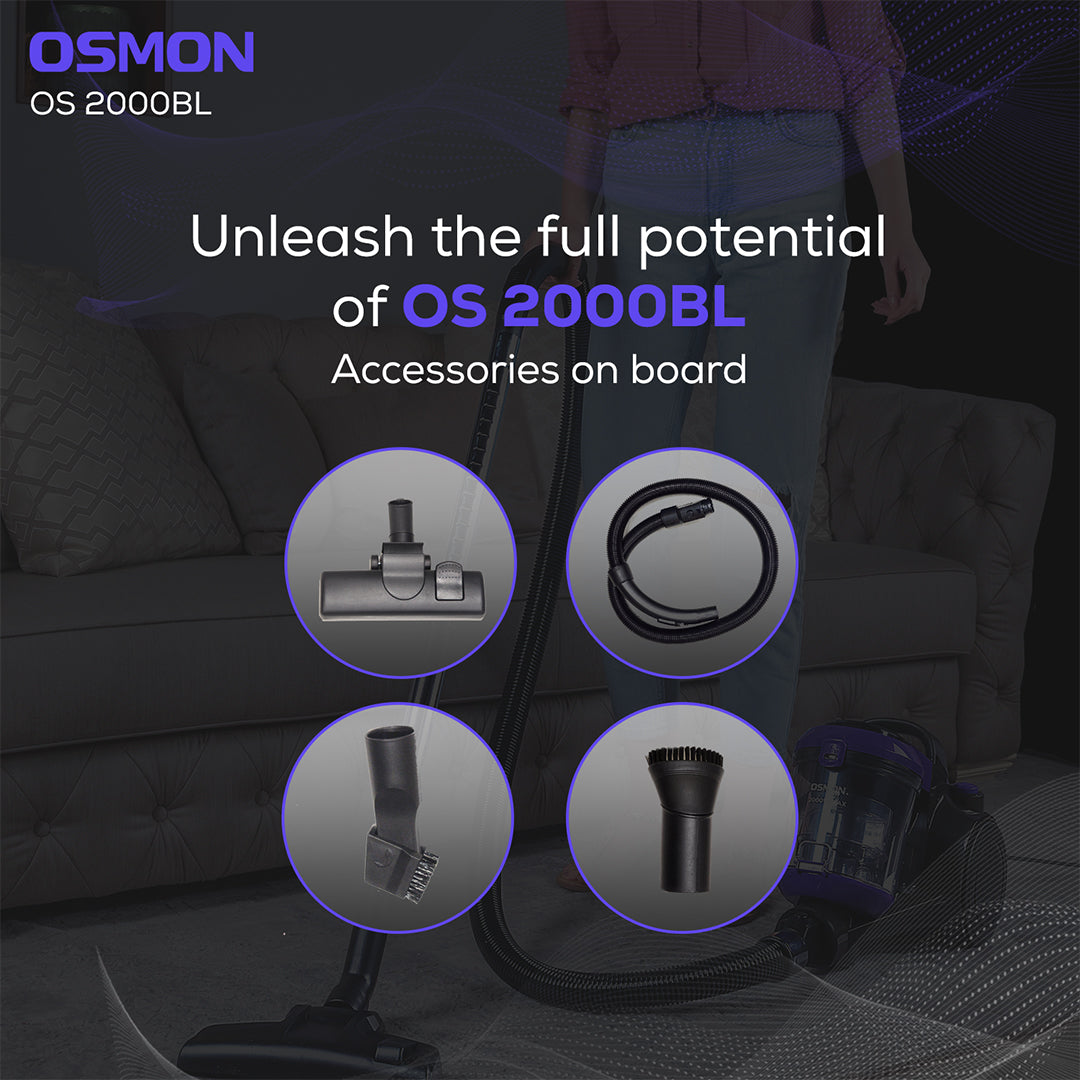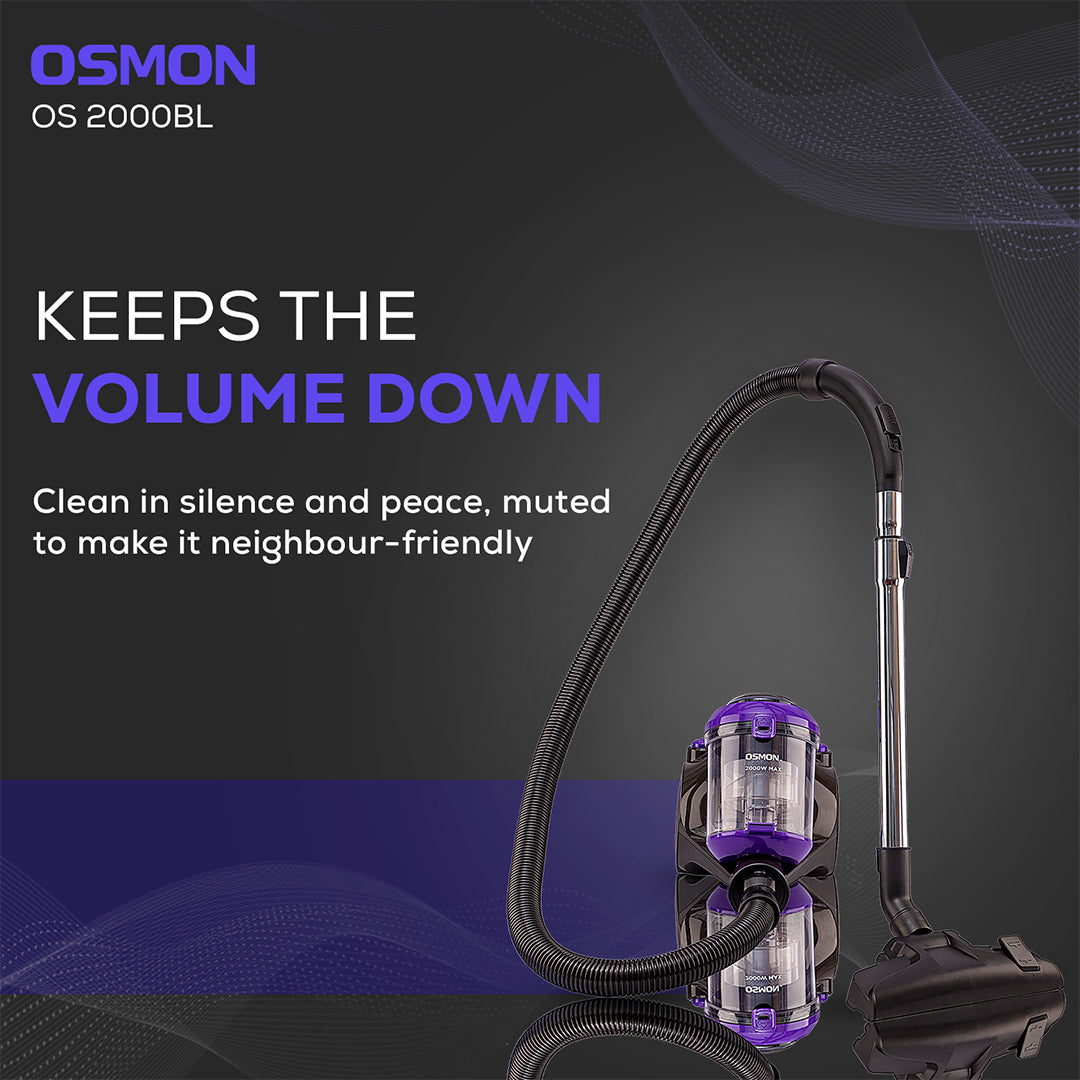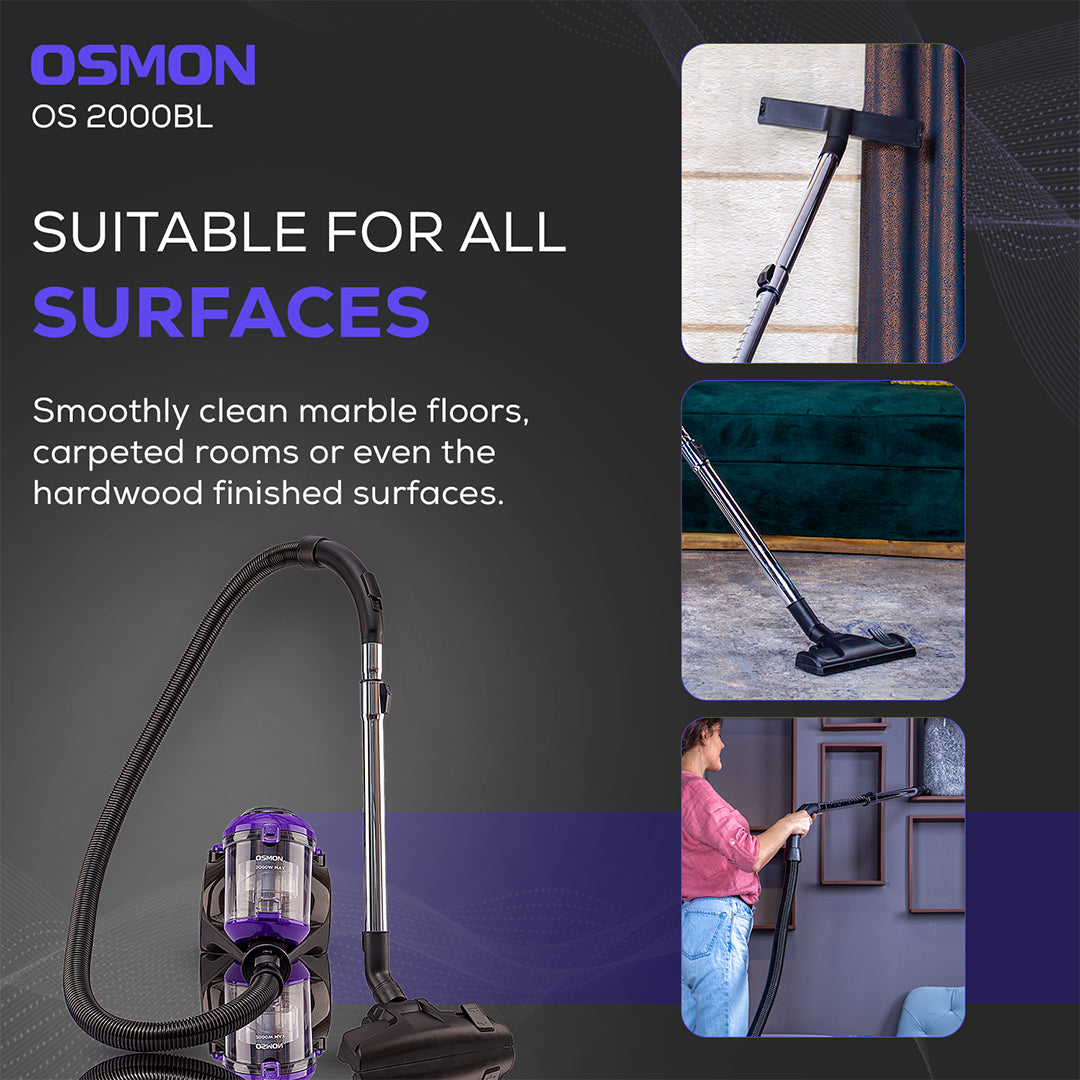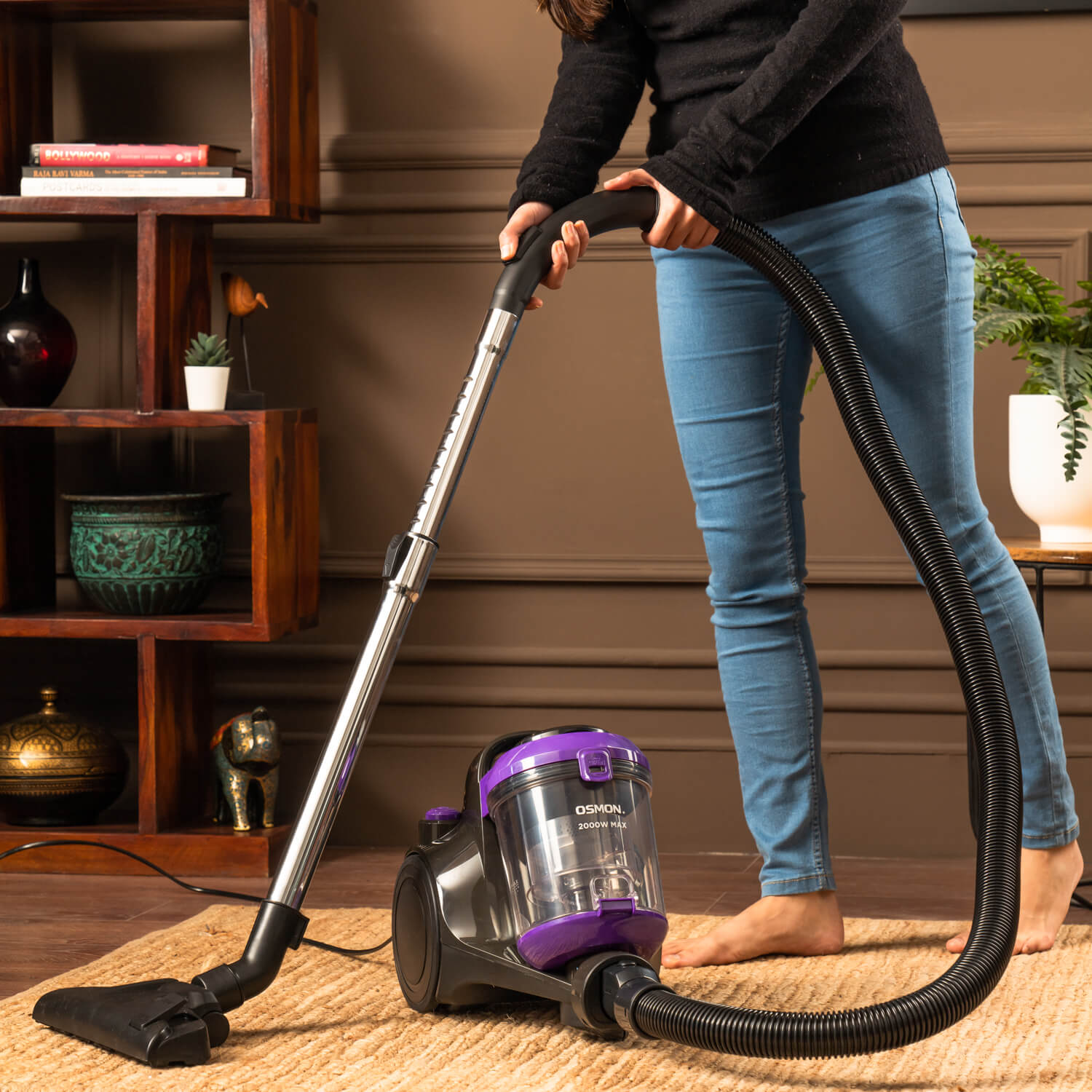 OS 2000BL 2000W Bagless Cyclonic Vacuum Cleaner with HEPA Filter (Purple & Black)
---
Get it between -
2000
watts motor
Using advanced multi-cyclonic technology, the OSMON OS 2000BL provides long-lasting and powerful suction with 2000 watts motor that can pick up even the most difficult of household wastes, right off the ground.
Key Features

POWERFUL 2000W COPPER MOTOR

A powerful suction to maximize airflow to tackle dust mites and particles that are not visible to the naked eye.

HEPA FILTRATION SYSTEM

Only clean air is released into the room, all the other fine air pollutants and allergens are trapped and separated effectively by the Hepa Filtration System.

MULTIPLE ATTACHMENTS FOR MULTI SURFACE CLEANING

Smoothly clean marble floors, carpeted rooms, or even hardwood finished surfaces.

18 FEET PVC CORD

An 18ft PVC cord for vacuums offers extended reach and mobility, resulting in a thorough cleaning experience and prolonging the lifespan of your vacuum cleaner.

ADVANCED MULTI-CYCLONIC TECHNOLOGY

Maximizes the flow of air while strengthening suction power.

BAGLESS VACCUMING SYSTEM

No more worrying about the disposal of dust-filled bags. A plastic dust container to the rescue can be easily removed and cleaned.

METAL TELESCOPIC WAND

Our vacuum cleaner's metal telescopic wand is adjustable, making it easy to reach different heights and angles. It's perfect for cleaning corners of sofas, furniture, and beds, as well as other tight spaces like under tables and cabinets. No more straining your back or stretching your arms to clean those tricky areas - our vacuum cleaner does the hard work for you. Leave no spot untouched.

KEEPS THE VOLUME DOWN

Our vacuum cleaner's low noise function allows you to clean your floors and carpets without disturbing your family or neighbours. With our low-noise vacuum cleaner, you can enjoy a quiet and peaceful cleaning experience.
About Osmon Bagless Vacuum Cleaner with HEPA filter
2000 Watts Bagless Vacuum Cleaner with HEPA Filter and Advanced Multi Cyclonic Technology
1. Discover an entirely new standard of cleanliness with the Osmon OS 2000BL Vacuum Cleaner. Our dynamic machine takes cleaning to the next level, boasting a robust 2000 Watts motor. It guarantees powerful suction that effortlessly sweeps away dust and dirt, giving your living space the rejuvenation it deserves.

2. The Osmon OS 2000BL, clad in striking Purple & Black, features a groundbreaking Multi-Stage Filtration (MSF) process paired with a central HEPA filter. This double filtration system captures allergens and dust particles with incredible efficiency. Indulge in the tranquility of a clean home, while ensuring a breath of fresh air each time.

3. Our lightweight, compact design complements any cleaning task. Thanks to the large, sturdy wheels, moving around furniture and across different floor types has always been challenging. The freedom of movement makes it a perfect companion for everyday home cleanliness.

4. No corner is too tight or area too high with the Extended Reach Stretch Hose. This handy addition allows you to easily access those hard-to-reach spaces, ensuring no spot is left untouched. With the QuickFlip Crevice Tool, those tricky spaces in your home, workshop, or car can be cleaned with ease.

5. Our Dust Container Full Indicator makes your cleaning experience as seamless as possible. The alert notifies you when it's time to empty the container, so your vacuum's performance stays at peak efficiency.

6. Moreover, we've got you covered long after your purchase with readily available spare parts. Whether within warranty or post-warranty, we ensure your Osmon OS 2000BL Vacuum Cleaner is always ready to deliver a spotless clean.
Included in the box

Floor Carpet Cleaner Attachment
Bagless Vacuum Cleaner with HEPA filter
This product is rated 4.0 of 5.0 stars.
It has received 1 review.
Have a question ? We are here to help.
Check out the most common questions our customers asked. Still have questions? Contact our customer support.
Our customer support is available Monday to Friday: 10am-6:30pm.
Average answer time: 24h
From what material is it made from, Is the item durable?

Our products are made from a combination of superior quality metal, plastic, and premium PVC materials. We use these materials to ensure that our products are not only durable but also long-lasting. We understand the importance of providing products that are built to last, which is why we use high-quality materials in the manufacturing process. Our products undergo rigorous testing to ensure that they are of the highest quality and are durable enough to withstand everyday wear and tear.
For what type of cleaning this product is suitable?

Yes, we offer free pick-up and drop-off service for all product servicing appointments. Our technicians will pick up your appliance from your home or office, perform the required service, and then return the appliance to you once the service is complete.
What type of pin plug comes with it? I want to make sure that it is compatible with the electrical outlets in my home.

The product comes with a standard Indian plug and will be compatible with electrical outlets at home, which should be compatible with most electrical outlets in India. If you have any doubts about whether it will work with your specific outlet, please contact our customer support team for assistance. We want to ensure that you have a positive experience with our product, and we're happy to help answer any questions you may have.
Our customer support is available Monday to Friday: 10am-6:30pm.
Average answer time: 24h