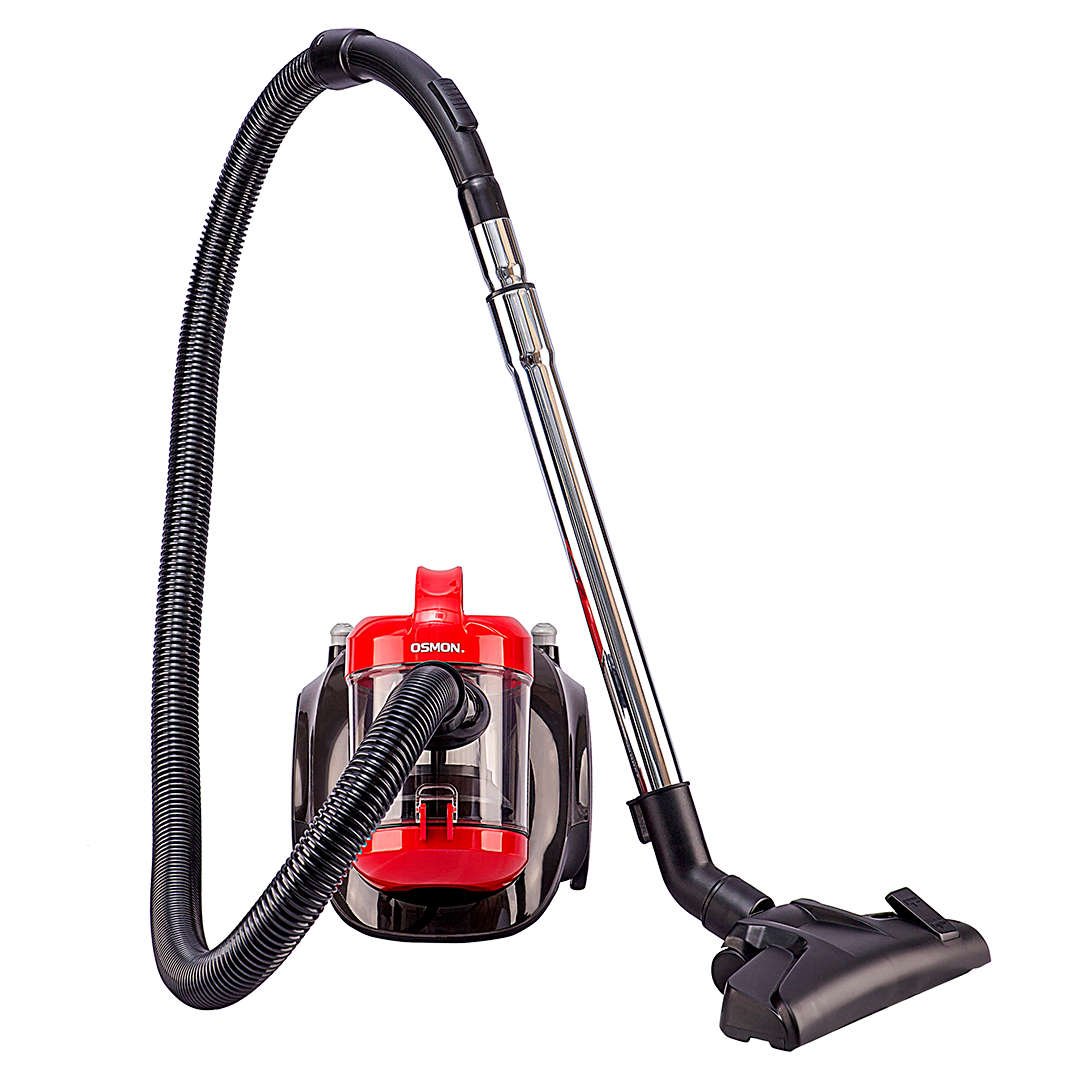 OS 1400BL 1400 Watts Bagless Cyclonic Vacuum Cleaner with HEPA Filtration, 25KPA Suction Power
---
Get it between -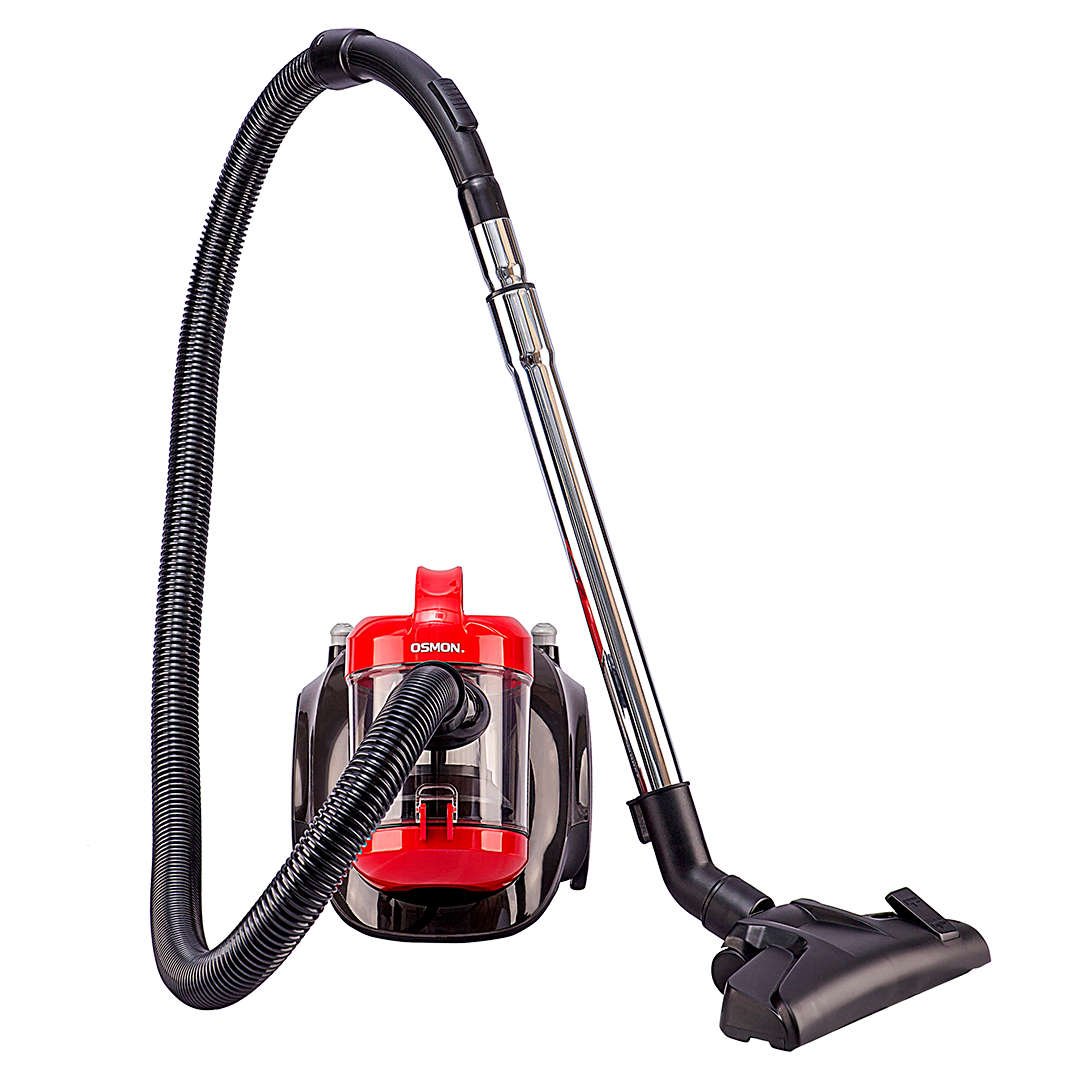 1400
watts motor
It cleans your space with multi-cyclonic technology and leaves your surroundings squeaky clean in no time.
18
feet long power cord
It is provided with an 18 feet long cord for better reach and flexibility. Clean those hard-to-reach places in no time.
5
Cyclonic Technology
The cyclonic technology produces great suction power that successfully draws out pet hair, fine dust, and debris from the surface without leaving marks.
Key Features

POWERFUL 1400 WATTS MOTOR

A High-performance motor of 1400 Watts can deliver powerful performance and leave the surface deep cleaned.

HEPA FILTER

Only clean air is released into the room, all the other fine air pollutants and allergens are trapped and separated effectively by the Hepa Filtration system.

MULTI-SURFACE CLEANING

Clean different surfaces using the metal telescopic extension for extra cleaning.

CYCLONIC 5 TECHNOLYGY

The cyclonic technology produces great suction power that successfully draws out pet hair, fine dust, and debris from the surface without leaving marks.

KEEPS THE VOLUME DOWN

Our vacuum cleaner's low noise function allows you to clean your floors and carpets without disturbing your family or neighbours. With our low-noise vacuum cleaner, you can enjoy a quiet and peaceful cleaning experience.

MIGHTY SUCTION POWER

It can effectively pick up dirt, dust, pet hair, and even larger debris like cereal or crumbs. Our vacuum cleaner can even reach deep into carpets to remove embedded dirt and dust that other vacuum cleaners may miss.

SPECIALISED TURBINE FOOT

Having pets is fun until pet hair is all you see around the house. Worry no more, as with this specialized turbine foot, even the smallest hairs won't be overlooked.

METAL TELESCOPIC WAND

Our vacuum cleaner's metal telescopic wand is adjustable, making it easy to reach different heights and angles. It's perfect for cleaning corners of sofas, furniture, and beds, as well as other tight spaces like under tables and cabinets. No more straining your back or stretching your arms to clean those tricky areas - our vacuum cleaner does the hard work for you. Leave no spot untouched.
About 1400 Watts Bagless Vacuum Cleaner with HEPA filter
Compact and lightweight bagless vacuum cleaner designed to clean your living space with ease.
1. Our vacuum cleaner has advanced multi-cyclonic technology and a HEPA filter, delivering excellent suction power that lasts longer. You can enjoy a cleaner and fresher home with less effort and time spent cleaning.

2. With an 18-foot-long power cord, you can easily reach all areas of your home without constantly searching for a new power outlet. Its compact and lightweight design makes it easy to carry and store away.

3. The hard floor turbine foot is tough on dirt but gentle on your floors, ensuring you get a deep clean without causing damage. Its 1400-watt power rating ensures it can easily tackle even the toughest dirt and debris.

4. The multi-surface foot is perfect for cleaning your home's area rugs and carpeted floors, ensuring every surface is left spotless.

5. The easy empty dirt tank makes it simple to dispose of the collected dirt and debris without making a mess. The brush system features a clear rotating window, making it easy to see when it needs to be emptied.

6. Our vacuum cleaner has everything you need to get started, including a hose pipe, extension pipe, floor cum carpet brush, and upholstery cum crevice nozzle. With a power rating of 1400 watts and an operating voltage of 220 - 240 volts, it's a powerful and efficient cleaning machine.

7. With a 1-year warranty on the product, you can have peace of mind knowing that your investment is protected. You can trust the quality and durability of our vacuum cleaner, making it a smart choice for any home.
Compact and Light Weight bag-less vacuum cleaner
This product is rated 5.0 of 5.0 stars.
It has received 1 review.
Have a question ? We are here to help.
Check out the most common questions our customers asked. Still have questions? Contact our customer support.
Our customer support is available Monday to Friday: 10am-6:30pm.
Average answer time: 24h
For what type of cleaning this product is suitable?

Our vacuum cleaner is suitable for cleaning a wide variety of floors, including hardwood, tile, carpet, and more. It is designed to effectively clean up dry waste, making it a great choice for everyday use in homes, offices, and even car interiors. The vacuum's versatile attachments also make it easy to clean every nook and corner of your space, ensuring a thorough clean.
What are the dimensions of this product?

The dimensions of our product are L45 x W27 x H31.5 Centimetres . These dimensions make it a compact and portable device that can be easily stored in small spaces. Despite its compact size, the product is designed to deliver powerful suction, efficient cleaning performance, and ease of use, making it an ideal cleaning tool for various surfaces and cleaning needs.
What type of pin plug comes with it? I want to make sure that it is compatible with the electrical outlets in my home.

The product comes with a standard Indian plug and will be compatible with electrical outlets at home, which should be compatible with most electrical outlets in India. If you have any doubts about whether it will work with your specific outlet, please contact our customer support team for assistance. We want to ensure that you have a positive experience with our product, and we're happy to help answer any questions you may have.
Our customer support is available Monday to Friday: 10am-6:30pm.
Average answer time: 24h