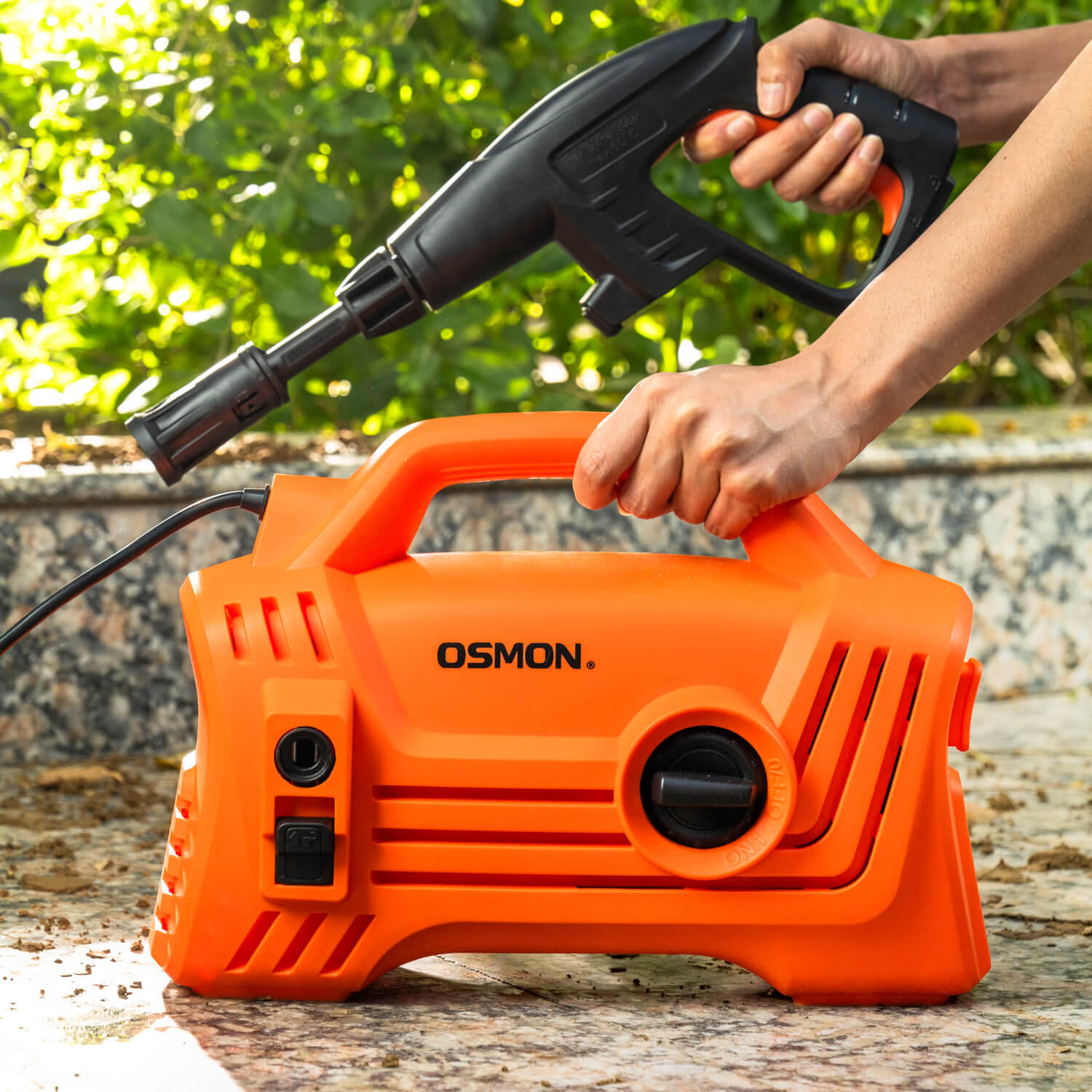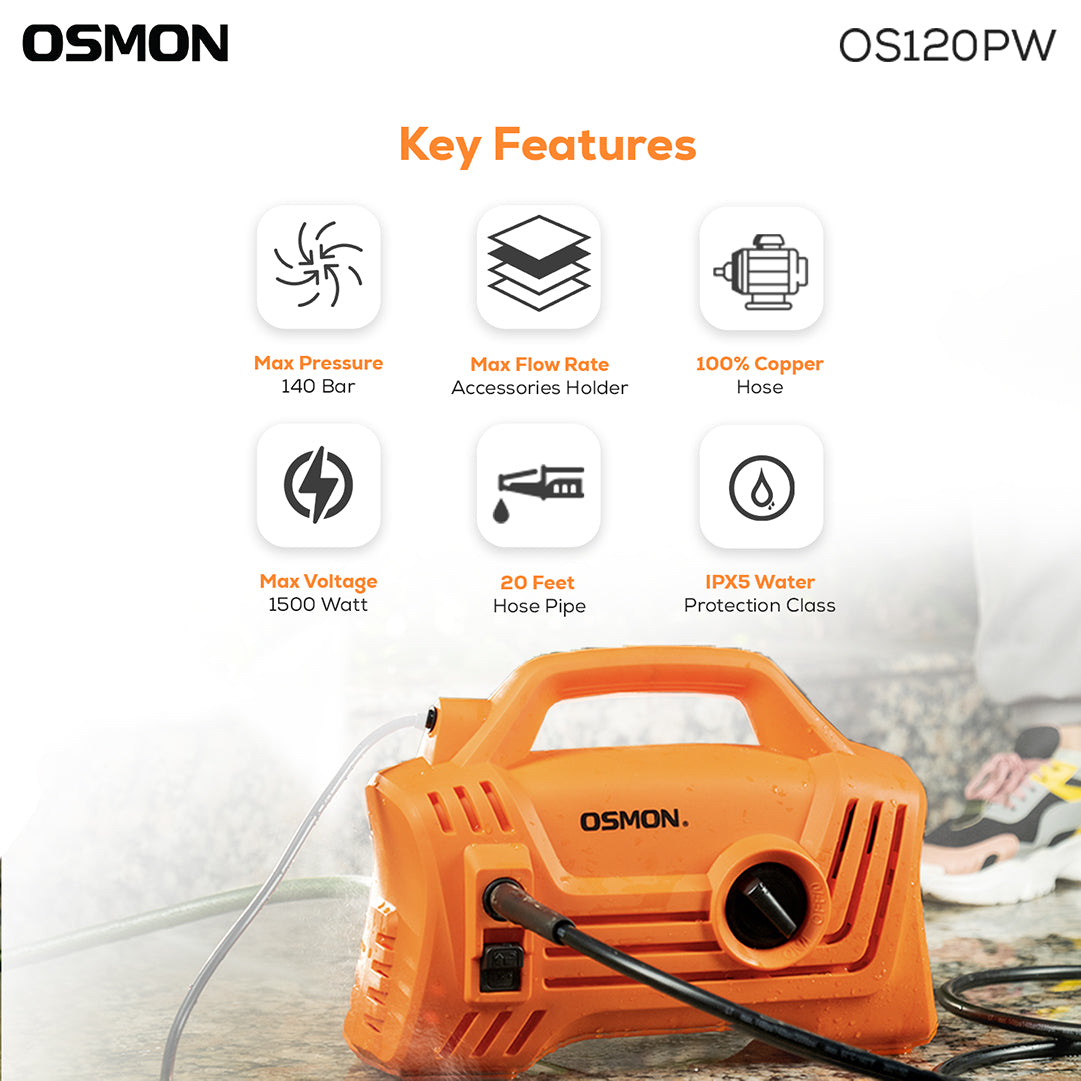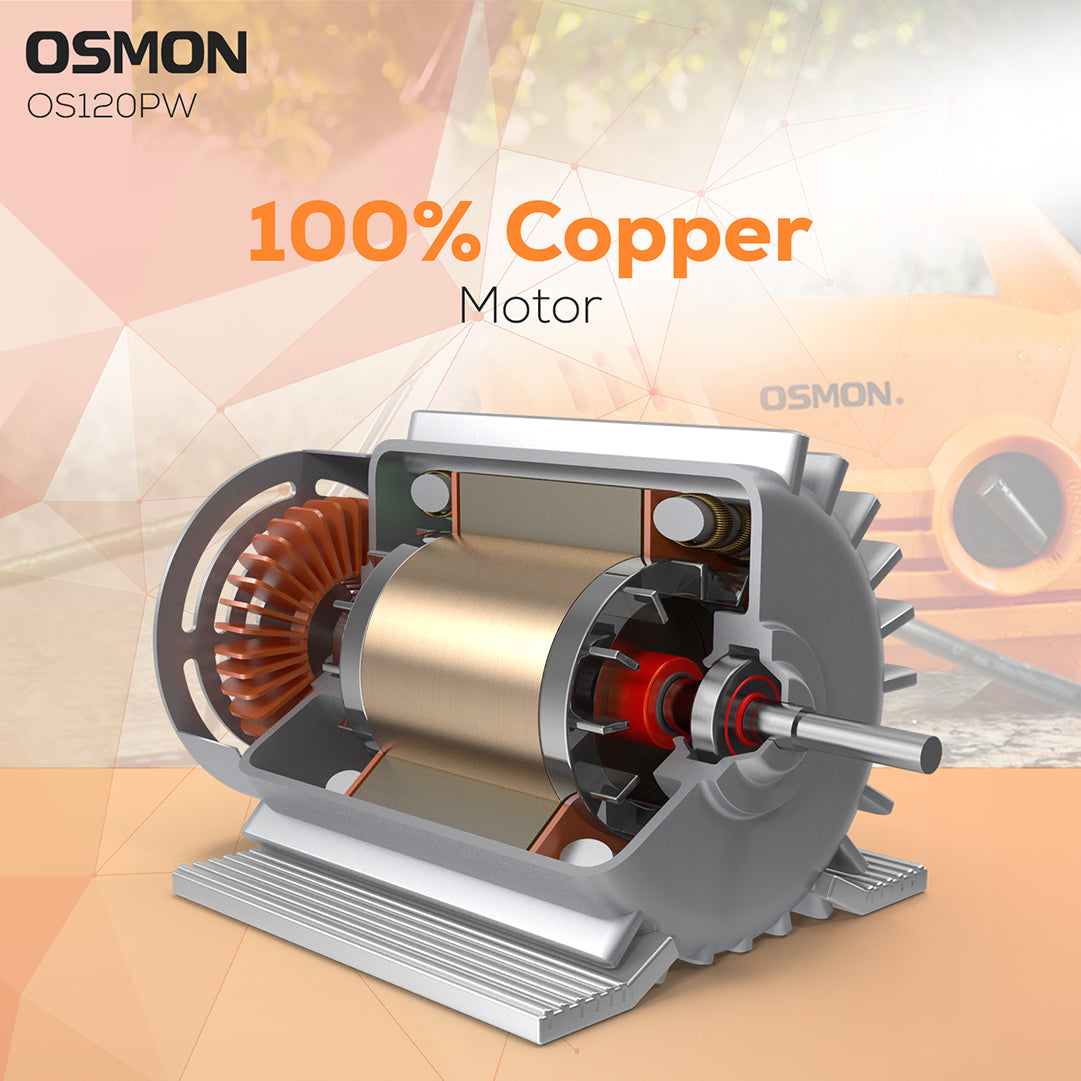 OS PW120 - Flow High Pressure Washer for Cars/Bikes & Home Cleaning Purpose | (Orange)
---
Get it between -
20
feet hose pipe
This feature allows greater mobility which benefits in easier and effortless cleaning.
100
% copper motor
The motor stays cool even when the appliance has been running for a long time.
Key Features

Max pressure of 120 bar

Gets into all the nooks and corners of vehicles, and surfaces and removes grime, grease, and dirt.

Max flow rate 390L/hour

Clean large areas like garages, swimming pools, etc. quickly & efficiently.

Max voltage 1500 watt

Equipped with a powerful motor to get rid of all the stubborn stains.

Powerful Cleaning Performance

Our pressure washer is equipped with a powerful motor and a maximum flow rate that ensures high-quality cleaning of various surfaces, including driveways, patios, and garage floors. With the ability to remove even the toughest dirt and grime, this pressure washer provides exceptional cleaning results every time.

Portable Design

Featuring sturdy wheels and a foldable handle, this pressure washer is designed for portability and convenience. The 5-meter hose length allows you to move around easily and reach even the most challenging areas. Additionally, the integrated accessories holder and nozzle make it a handy tool for cleaning tasks around the home and car.

Time-Saving Quick-Connect Fittings

Our pressure washer features Quick-Connect fittings that enable you to switch between connectors quickly and easily, saving you valuable time during cleaning. With a high-power pencil jet nozzle, this gadget can efficiently clean cars, patios, and other surfaces without requiring any additional tools or equipment.
About High Flow Pressure Washer
High Flow Pressure Washer for Cars, Bikes & Home Cleaning Purpose
A pressure washer is one of the best cleaning tools nowadays! Not just your car, but it helps clean the driveways, patios, and garage floor, thus keeping the entire house spick and span.
Included in the box

Quick / transparent inlet connector
Make your stuff look as good as new
This product has no reviews yet.
Have a question ? We are here to help.
Check out the most common questions our customers asked. Still have questions? Contact our customer support.
Our customer support is available Monday to Friday: 10am-6:30pm.
Average answer time: 24h
What are the types of attachments we get with this product?

We provide a range of attachments with our Pressure Washer to make it more versatile and efficient. Here are the types of attachments that come with our product; Quick Connector, Transparent Inlet, Soap Bottle, Hose Pipe and Gun.

Overall, our Pressure Washer attachments are designed to meet a variety of cleaning needs, making our product versatile and efficient.
For what type of cleaning this product is suitable?

Our pressure washer that is designed to effectively clean a wide range of surfaces, including patios, porches, fences, and even fungus around plants. The pressure washer comes with a powerful motor and high-pressure nozzle that delivers strong water pressure to remove stubborn stains and dirt from various surfaces.
What are the dimensions of this product?

The dimensions of our product are 34 x 26.5 x 41.3 Centimetres . These dimensions make it a compact and portable device that can be easily stored in small spaces. Despite its compact size, the product is designed to deliver powerful suction, efficient cleaning performance, and ease of use, making it an ideal cleaning tool for various surfaces and cleaning needs.
Our customer support is available Monday to Friday: 10am-6:30pm.
Average answer time: 24h