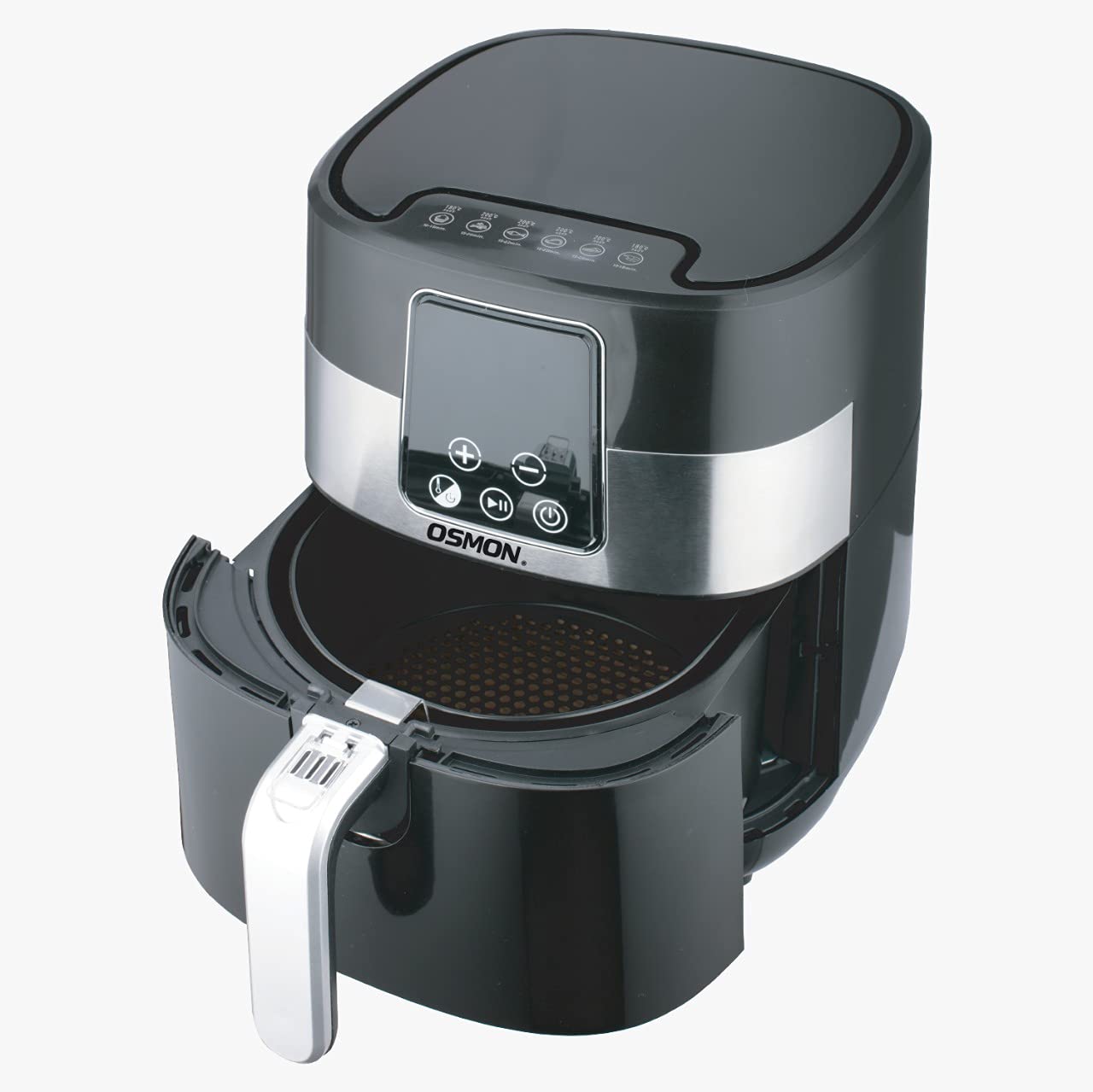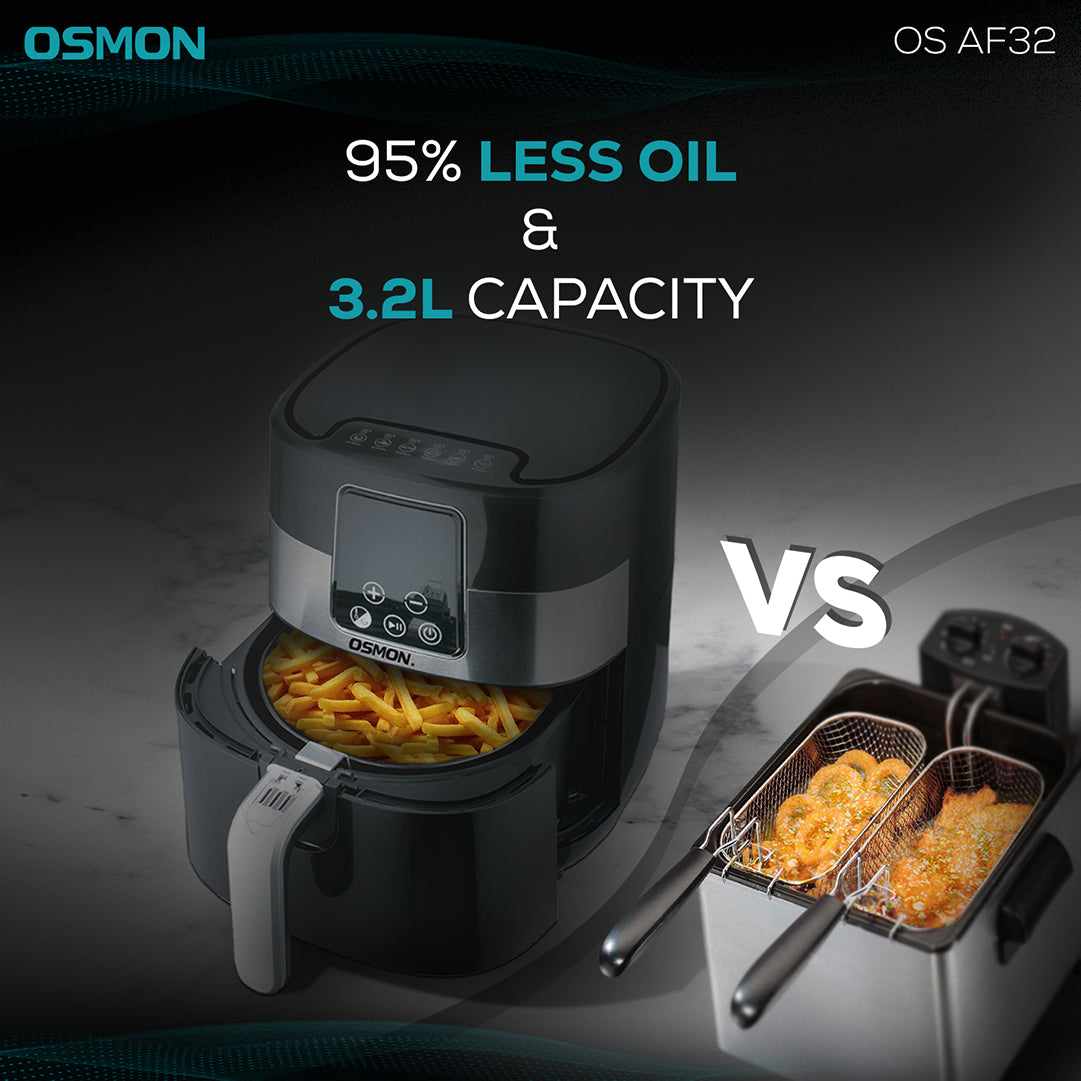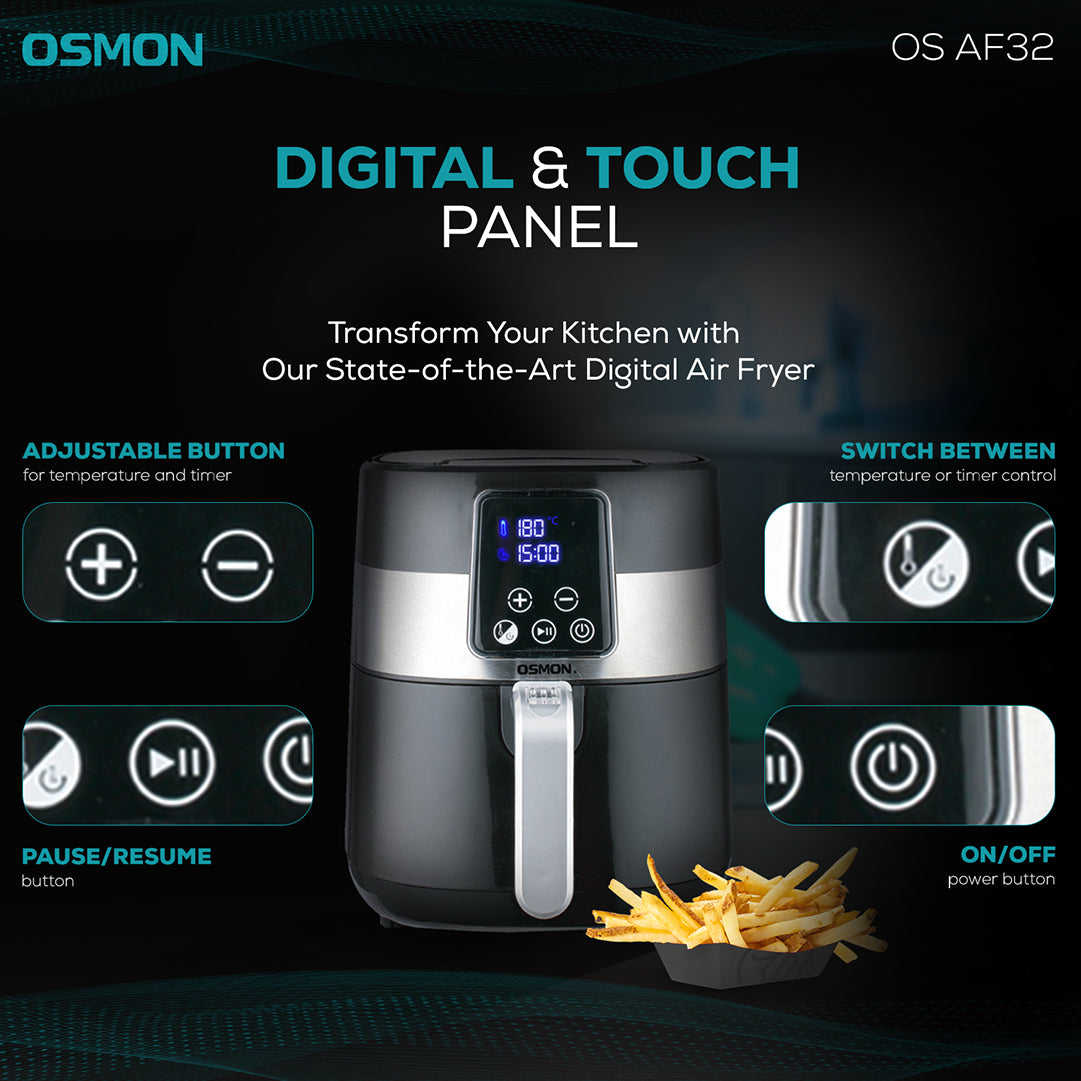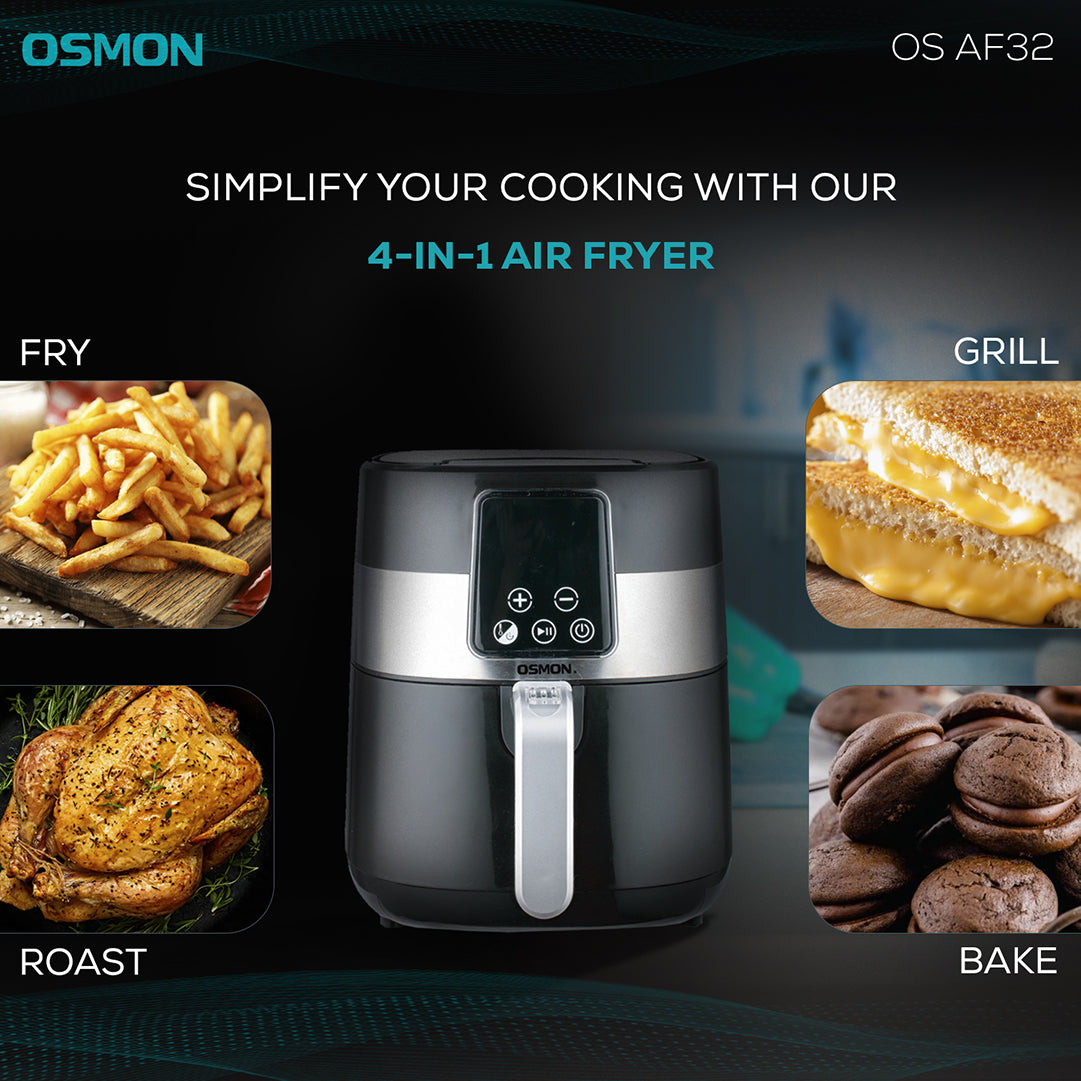 OS AF32 - 4 Litre Digital Air Fryer with 3.2 Litre Basket, 1300 Watts Power with 30 Minutes Timer (Silver & Black)
---
Get it between -
3.2
litre capacity
Cook efficiently without waiting time by reducing the number of turns it takes to cook the entire batch of food.
Key Features

ADJUST/SWITCH BUTTONS FOR TEMPERATURE AND TIMER

You can adjust and switch temperature and timer buttons to save your food from burning and get perfect dishes according to your favourite recipes. Options are endless, and keeping your good health is our first priority.

PAUSE/RESUME BUTTON

Pause and Resume your cooking in our Digital Air Fryer for a hassle free cooking experience. Cooking is simple and healthy with our kitchen hero!

SWITCH BETWEEN TEMPERATURE OR TIMER CONTROL

INNOVATIVE DESIGN

The innovative design of the air fryer combines both style and function. With its sleek and modern look, it makes for a stylish accessory to any kitchen. Its unique cooking method, which uses little to no oil, makes it a healthier alternative to traditional frying methods. Plus, it's easy-to-clean surfaces make it convenient for everyday use. With the air fryer's innovative design, you can cook your favourite dishes without sacrificing taste or health.

3D RAPID HEAT CIRCULATION

3D rapid heat circulation technology circulates hot air around food from all angles, creating even and quick cooking. This makes it a healthier and more convenient alternative to deep frying.

1300 watts copper motor

Get crispier and healthier food everytime you cook in our powerful osmon air fryer!

3.5L CAPACITY

Cook efficiently without waiting time by reducing the number of turns it takes to cook the entire batch of food.

AUTO SHUT OFF

No worries about burning your dinner. Set the timer and the air fryer will turn off automatically when the time's up.

HEAT MODES

From frozen foods to crispy fries & desserts, different heat settings will allow you to cook delicious meals with little to no oil.
About 3.2 Litres Digital Air Fryer
Discover a better way to cook your favourite food with the Osmon OS AF32- 3.2 Litres Digital Air Fryer.
1. High-powered air fryer with 1300 watts motor for faster cooking and crispier snacks.

2. The Large 3.5L capacity allows for efficient cooking without the need for multiple batches.

3. Auto shut-off feature ensures safety by turning off the air fryer when the timer is up, preventing overcooking and burnt food.

4. Multiple heat modes are available, from frozen foods to crispy fries and desserts, allowing for versatile cooking options.

5. Innovative design with a sleek, modern look adds a stylish touch to your kitchen and is easy to clean with a damp cloth.

6. No to very little oil use provides the same great taste, crispiness, and tenderness as traditional frying without unhealthy oil.

7. Allows for easy and healthy cooking of favorite dishes such as potato wedges and chicken tenders with very little oil needed.
Upgrade your cooking experience
This product has no reviews yet.
Have a question ? We are here to help.
Check out the most common questions our customers asked. Still have questions? Contact our customer support.
Our customer support is available Monday to Friday: 10am-6:30pm.
Average answer time: 24h
What are the types of attachments we get with this product?

Our air fryer comes with two types of attachments - an air fryer basket and a net basket. These attachments are designed to make it easier to cook a variety of foods using the air fryer.
The air fryer basket is perfect for cooking foods like French fries, chicken wings, and fish fillets. It allows the hot air to circulate around the food, cooking it evenly and giving it a crispy texture. The net basket is ideal for cooking delicate foods like vegetables and shrimp, as it allows them to be cooked without falling apart.

What are the dimensions of this product?

Our air fryer has dimensions of 32.2 x 32.2 x 36 centimetres (LxWxH). This compact size makes it easy to store on your kitchen countertop or in a cabinet when not in use, and it won't take up too much space.
Despite its small size, our air fryer has a capacity of 3.2 litres, making it perfect for cooking meals for one or two people. The basket is also removable and easy to clean, making it a convenient and hassle-free appliance to use.
In addition, our air fryer has a sleek and modern design that will complement any kitchen decor. Its small size and stylish appearance make it a great addition to any home.
Does it have overheating auto - power cut off protection?

Yes, our air fryer product has an automatic overheating power cut-off protection feature to ensure safety during use. This means that if the air fryer overheats during use, it will automatically shut off to prevent any potential hazards.
Our customer support is available Monday to Friday: 10am-6:30pm.
Average answer time: 24h